Mark Kramer
Mark Kramer, Executive Chef, Creative Director & Proprietor of Susan Lawrence, brings to his work an extensive knowledge of food and a keen sense of design drawn from the visual arts and cultural history. His food designs have appeared in many major publications such as Victoria Magazine, Early American Life, and W Magazine. Recently honored as "Best Caterer" by Westchester Magazine, he has created menus and coordinated events for many prestigious clients including; the New York Zoological Society, the Rockefeller family, President & Senator Clinton, the French Embassy in Washington, D.C., Brooke Astor, Lady Bird Johnson, Glenn Close, Eileen Fisher, Vanessa Williams, Historic Hudson Valley, the Jewish Museum, The New York Times, the Hudson River Museum and Hermes of Paris. Mr. Kramer's cooking classes, particularly his "Perfect Dinner Party" series, have been extremely well received and have developed a large following.
A passionate collector of antique copper, Mr. Kramer brings his love for hand- hammered copper platters and furnishings to his design work. They figure significantly in his catering concepts where they are combined with estate urns, English ivy topiaries and verdigris baskets to create a distinctive 19th-century garden aesthetic. The Mark Kramer Vintage Collection, a line of handmade copper housewares, is currently in production and will soon appear in retail stores. Mr. Kramer, has recently redesigned and expanded Susan Lawrence in Chappaqua making it one of the nation's finest purveyors of gourmet food.
Mr. Kramer began his culinary career in Chicago as the pastry chef for Foodstuffs (a division of Crate and Barrel) where he designed and created an entire retail pastry product line. It was in Chicago, mentored by such culinary visionaries as Carol Siegel, Abby Mandel and Leslie Reis that he perfected his craft. Mr. Kramer also studied the violoncello and early music at Northwestern University where he received a Master of Music Degree. While earning a doctorate degree in music history, he specialized in the symbolism of music in Dutch paintings of the seventeenth century. He remains today a respected expert in that field and has received critical acclaim as artistic director of the period instrument ensemble, Ars Antiqua. He resides in Putnam County where he has created a formal English herb garden and perennial gardens that have supplied Susan Lawrence with culinary herbs and flowers for many years.
Mark's Journal
BABETTE CAKE: A ROMAN MYSTERY DECODED
Posted on Saturday, November 20, 2021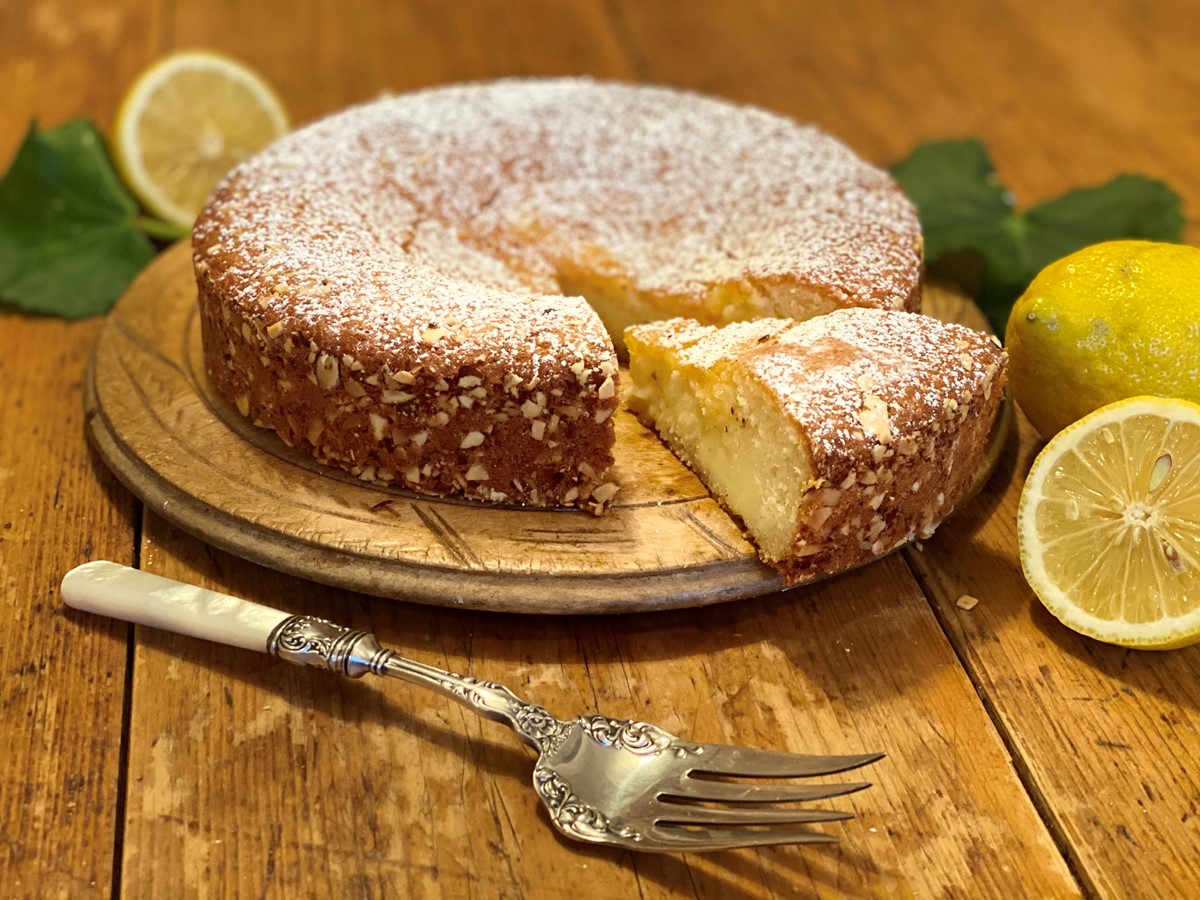 Near the Piazza del Popolo, in the artistic heart of Rome, is an extraordinary restaurant where a French woman by the name of Babette creates wonderful Italian cuisine with just a touch of French flair. The restaurant is a blend of Parisian bistro and Italian trattoria charm. A black and white tile floor and distressed stucco walls exhibiting works of emerging painters provide a true French ambience and backdrop for an eclectic mastering of many regional favorites.
Presiding over the kitchen is Babette herself – and one can only imagine she is the incarnation of that famous Babette in Isak Dinesen's decadently scrumptious novel. On her insistence, we ended our dinner with a piece of her signature dessert: a rustic lemon cake. Served warm, it was quite simple in appearance – but pure heaven and maybe the most perfect cake I have ever eaten. Light as air, delicately flavored with fresh lemon and a hint of almond, its genius was a creamy and luxurious center. If a cake could be life changing - this might be the one, and it has haunted me ever since we left Rome.
Babette holds fast to keeping her recipe secret, so it became my mission to recreate her cake in my own kitchen. My research began with the traditional Torta della Nonna, which has many of the same flavors although is clearly a much older, less pretty and heavier sister to Babette's creation. Then came the trials. Night after night of cake baking with interesting but failed attempts at texture, lightness and flavor. How was the mysterious molten center achieved? How much lemon? How could the almond flavor be so delicate? And then, voilla! As soon as I began to think like a French pastry cook in an Italian kitchen, the mysteries of Babette's cake began to unravel.
A Torta della Nonna it was not, even though the combination of tart lemon and almond is decidedly indigenous to Roman kitchens. Torta Babette, I discovered, is a quintessentially French cake with an Italian twist. Seductive, yet simple. Now that I have perfected it, I like to serve the cake warm with a little Limoncello or a wonderful espresso. One bite, and you too, will be exclaiming with a French accent, "Molto molto buono!"
SEVEN LAYERS OF MEMORIES
Posted on Thursday, March 4, 2021
Our Seven-Layer Cake has a story. When I was a child, my parents would often stop at Eclair - a bakery in Grand Central Station, popular in the 1950's and 1960's.
The owner brought the sweet taste of Austria and Hungary to New York City where busy commuters would purchase Schwarzwalder Kirschtorte, Apple Strudel and Charlotte Russe. The Charlotte Russe was anything but traditional - a small white paper cup with a push-up bottom filled with spongecake and whipped cream.
As children, we squealed with delight when these were brought home. Even more so, we nearly shook in anticipation of the Marshmallow-stuffed Glacé Apricots which probably caused my life-long obsession with apricots in ALL its forms. But most memorable was the Seven Layer Cake. A modest rectangle with seven heavenly layers of spongecake and light chocolate buttercream all enrobed in a dark chocolate glaze. For the last decade or three, I have been recreating this childhood memory, and it is still one of our most popular cakes.
I suppose a classic will always remain one. Over the years, I have encountered numerous people, who after seeing our Seven Layer Cake, recalled that same little bakery in Grand Central Station. Their memories are a touching tribute to a special little cake which has inspired decades of sweet and delicious eating right here at Susan Lawrence. - Mark Kramer
THE TRUTH ABOUT ROTISSERIE CHICKENS
Posted on Tuesday, December 29, 2020
It is always a temptation. The aroma of those warm rotisserie chickens in your local food market catches your attention every time. It's an easy dinner solution and who could resist a good roast chicken for a quick impromptu dinner? What seems like a good idea is actually a potentially disappointing and dangerous food experience.
Keep in mind, those yummy chickens have been kept under a heat lamp for hours (sometimes reheated from days before) and exposed to all sorts of temperature fluctuations. In addition to getting very tough and dry, the potential for them being dangerous to eat is quite high. At a luke warm temperature, they are what the health department certifies as being in the "danger zone." This is a temperature at which potentially harmful pathogens grow like wildfire. Put that little warm cooked bird in a foil bag and on the ride home the risk of salmonella and other toxins increases at an astonishing rate. Don't even think about leftovers. Once those little devils get going, they are not going away. Not even in the refrigerator.
Many people have asked over the years why our Rotisserie Chickens are kept cold in our refrigerator case here at Susan Lawrence. Well, the answer is simple. A perfect roast chicken, when chilled immediately after cooking, preserves the integrity of the bird. The 'cold' will not only lock in the juices but will keep that dangerous salmonella bacteria from ever getting started.
So next time, when the aroma of those warm roasting chickens captures your senses, observe carefully. Think about how long they have been waiting there for you and decide for yourself if suspicion is warranted. A properly handled 'cold' chicken will crisp up beautifully in a hot oven - and don't forget the gravy....
View more entries